SDI – Service Desk Institute
The Service Desk Institute (SDI) has been connecting IT service professionals across the world since 1988 and is the leading global community for everyone working in the IT service and support industry. Our mission is to inspire service desks and service desk professionals to be brilliant.
With a passion for providing industry best practice and sharing knowledge, SDI has dedicated the last 30 years to guiding, inspiring and connecting ITSM and service desk communities. A respected, trusted and independent advisor to the service desk industry, SDI has inspired thousands of organisations and professionals around the world to embark on their own journeys of service improvement and to be the best they can possibly be.
The Industry Thought Leaders
Service Desk Institute is in a unique position as the creators of the professional standards that all of SDI's qualification training courses and workshops are built on. SDI is passionate about inspiring service desks to be brilliant and believe that continual training is fundamental in achieving this.
Add Value To Your Career
SDI's unique set of courses will make a real difference to your career and your CV whether you're an analyst, a team leader, manager or responsible for an entire IT service department.
World Recognised Industry Qualification
There's only one way to guarantee to an IT service employer that you're more capable and brilliant than the next candidate and that's to hold a recognised, professional SDI Service Desk Manager or Service Desk Analyst qualification.
Benefits for individuals
Qualifications designed specifically for their roles.
Three levels provide a structured career path and progression route.
Ability to demonstrate understanding of service desk requirements, skills and best practices to an employer.
Industry generic allowing skills to be applied outside of current organisation.
Source of continued professional development for IT support profession.
Benefits for organizations
Staff equipped with skills and knowledge of best practices specific to roles.
Positive impact on the efficient running of service desk & IT support functions.
Increased productivity and customer satisfaction.
Excellent for training new starters.
Aids preparation for service desk audit if required/appropriate.
Our training course: SDI Service Desk Analyst (SDA)
Overview
The importance of delivering high quality customer service in today's support environment means that the responsibilities of IT support analysts are many and, as a result, a diverse skill-set is required to meet the constantly evolving and increasing challenging demands placed on them.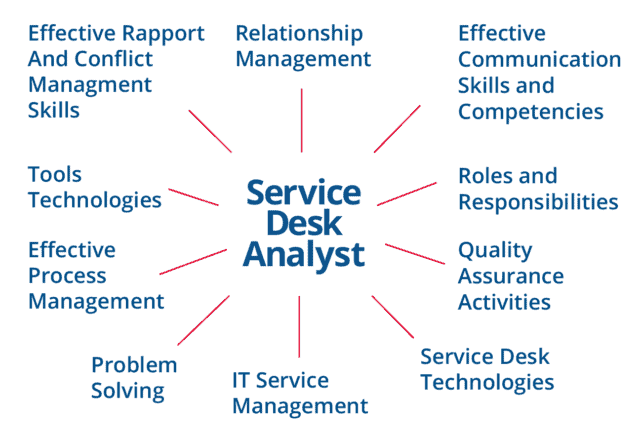 Objective
Excellent customer service through efficient IT support – whether it be face-to-face, via email, over the phone, by IM/SMS or through social media channels to its agreed IT service levels.
This course equips analysts with the essential skills for delivering an excellent level of customer service and support.
What will you get out of it?
A thorough grounding in the skills, competencies and knowledge required of a professional and effective service desk and support analyst.
The essential skills and competences to deliver efficient and effective support in line with SDI's best practice industry standards.
A clear understanding of how to identify customer needs and motivations, how to deal effectively with a variety of situations.
The ability to recognise the importance of teamwork in the support environment.
Knowledge of core IT service management processes and the role of the service desk within these.
Practical problem solving techniques to help resolve customers' issues first time.
An understanding of service desk metrics, service level agreements, customer satisfaction surveys and the latest service desk tools and technologies.
An awareness of the need for developing professional relationships and for displaying respect and cultural sensitivity.
Practical preparation for passing the SDA examination with APMG International.
Target audience
The SDA qualification course is for front-line IT service and support analysts with some experience in a first line or second line service desk environment.
This course is perfect for analysts looking to grow in their role and gain a recognised qualification in their profession. This course will help them to develop practical skills whilst earning a certificate that endorses their commitment and knowledge.
Pre-Requisites
There are no specific pre-requisites for attendees wishing to participate in the course.
Duration of the course and workload
The training lasts three days.
For this training workload is not applicable.
Learning Delivery Method: classroom
Our expert instructors and study materials provide results-oriented, classroom training. The course includes a mix of instructor-led training and hands-on exercises to help participants understand and apply the principles of Service Desk Analyst Skills.
Group size
The maximum group size is 10 people per training course.
Certification
At the end of the training, a certificate of participation will be sent to you via email and you can sit for an official APMG exam.
Content
This course is designed to provide service desk and support analysts with the skills to work consistently within industry recognised standards and in-line with the best practices guidelines.
It reviews the four key concepts covered in the standards: professionalism and roles, analyst skills, process and supported technologies and enabling tolls, on which the skills, competencies and knowledge required to deliver professional and effective support are based.
Materials
The study materials include handouts of the presentations and exercises. At the end of the training, these materials will be sent to you via email.
Vocational guidance
Our online support system offer the opportunity to exchange ideas with our practice-experienced professionals about the possibilities and problems that are experienced in applying the learned knowledge and skills and in the successful execution of the planned improvement actions.
During and up to 3 months after the end of the course, students have access to this system.
Study guidance
During and up to 3 months after the end of the course, we offer support to the students in the study of the theory. This takes place on an individual basis or in a group.
Cost
Per student the price of this public training is €1.185 excluding VAT or €1.303,50 free of VAT. This includes a digital version of the study materials, location and arrangement costs and a digital certificate of participation.
A Support Voucher is provided to each participant of a public training. With this voucher, access to our online system can be obtained.
This course can also be run as an in-house course, see our webpage on in-house training for more information. Please contact us for more information.
Exam
Multiple choice
60 questions per paper
39 marks required to pass (out of 60 available) – 65%
60 minutes duration
Closed book.
This training is provided in Dutch and in English.
The materials and the exams are only available in English.